In Part I of this series, we introduced the landslide effect of EU decisions on long-held debt accountability for football clubs. The Spanish Revenue Service (Hacienda) can no longer cover for clubs as it is held liable by EU authorities for ensuring that payments are met on time.
An important factor in these events are the changes to the insolvency proceedings law — previously life-saving for clubs — that have come into effect as of July 2012.
There's a Spanish saying that goes, "for every law, a new loophole appears" (hecha la ley, hecha la trampa).
But the days of loopholing into never-ending debt seem to have come to a sudden halt.
The changes to the insolvency proceedings law, applicable to any Spanish company seeking to file for bankruptcy after July 2012, will not have a sweet ending if the company is a football club.
Before these changes, top flight clubs sought the operations as a way of freezing payments, seeking a more balanced and comfortable payment arrangement with creditors and partial debt forgiveness, while maintaining their right to compete in La Liga.
Not anymore.
As sports finance pundit José María Gay de Liébana explains, the changes now mean that commercial law prevails over sports law, and therefore it would automatically mean being excluded from the professional levels of Spanish football.
Insolvent clubs would be forced to take a plunge into Segunda B, Spain's third tier.
This system of loopholing has allowed up to 27 Primera and Segunda teams immersed in insolvency proceedings to remain in the game.
Betis, Rayo Vallecano, and Real Zaragoza are three sides that remain in the first division amid insolvency struggles severe enough to shut down any other business in Spain.
Rayo's case is especially significant.
The Vallecas-based club were majority-owned by Nueva Rumasa, a holding company whose sole shareholding family, the Ruiz-Mateos (members of the board), are being tried for fraud.
Most of Nueva Rumasa's subsidiaries have filed for bankruptcy (among them chocolate maker Trappa and dairy producers Clesa and Dhul), leading to thousands of workers losing their jobs as these companies cease operations.
Though it was not an easy season for Rayo, they survived. Players, coaching staff and rank employees were forced to accept salary cuts, and the team was not relegated (partially thanks to Diego Costa's sensational on-loan performance).
Now they're going through their second year of insolvency, but they still remain a viable club.
Football clubs seem to be above the laws that apply to the rest in Spain.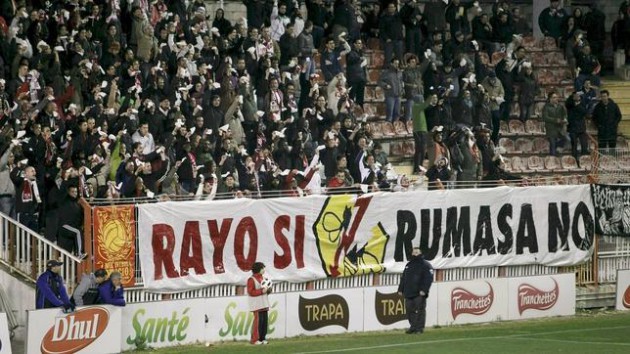 Teams like Racing Santander and Deportivo la Coruña are now heading towards insolvency and are asking for the same treatment that their fellow LFP teams received, despite the changes to the law already in effect.
In 1995, Sevilla and Celta were stripped of their professional status when they failed to apply for protection under the Corporate Sports Law and were relegated to Segunda B. The demonstrations were so fierce in both cities that they were reinstated in a case of incredible laxity in application of the law.
That was the origin of the 22 club league that plagued the calendar in the late 1990s, with too many games to work out a reasonable season in terms of length and competitive edge.
Gay de Liébana told a Coruña daily, "[If we compare the debts of the clubs, the situation is very unfair] — Atlético Madrid's debt is three times the size of Deportivo's, but we have to take into consideration that they are a powerful institution from the capital. It is much easier to be strict and lawful with a peripheral team like Deportivo, which if punished, would cause less of a headache to authorities."
By now, the worried reader may be wondering exactly how much Atlético owe?
According to public club figures in June 2011, Atlético owed Hacienda alone €216 million.
In September 2011, the club paid off €52.5 million of that amount. An estimated total of €34.5 million was paid back in 2012. We say estimated because no one outside the club or the Tax Agency (conveniently?) knows for sure. 
Select news reporters had access to a club report stating that an amount slightly above €33 million had been paid to the taxman so they could write tailored articles of how well Atleti pay back their debts (without the luxury of being Lannisters).
The agreed payment plan foresees payments of €15.5 million in 2013 and in 2014.
The remaining €80 million would be paid during the following three seasons, leading to a balanced situation by 2017.
This spectacular financial management will only cost €66 million in late payment  taxes (a Falcao and a half, or a Kun and a half, or even worse, five Diegos worth of late payment taxes). Atleti's effort to raise the money for the 2012 installment almost resulted in a panic sale of Falcao to Chelsea in late August.
End of the bad news? Hardly.
You can read more about the details of the debt here but it all really depends on who you get your figures from. While UEFA  believe Atleti are saddled with a debt of €300 million, Señales de Humo, a group of Atleti supporters in opposition to the current regime, claim Rojiblanco stock is currently worthless.
"In the most successful season in 30 years, 2012, the club was only able to rake in a profit of slightly over €600,000," a Señales de Humo spokeperson was quoted as saying. 
"The club's debt has grown at a steady rate of €52 million season after season to reach the impossible-to-sustain amount of €782 million; €522 million of which are from only the last decade."
Official financial statements released by the club report €100 million in income. The net worth of the club could be close to €25 million,  according to some.
With the institution making a loss on bad seasons and not making too much of a profit in good ones, how many perfect seasons do we need to quench the debt?
Because of UEFA Financial Fair Play Regulations,  Atleti's European competition prize money was frozen this season until the Hacienda payment calendar and other operating debt information was clarified and it was fully proven that Atlético were still on track to repay their €300 million debt.
The club first raised suspicion among UEFA officials when, the previous season, Agüero's move to Manchester City for a reported €50 million was believed to have been used to shrink the huge debt, but less than a month after the sale, Falcao was signed for €40 million through an indirect deal with an investment fund.
Only financially sustainable clubs will be allowed to access European competition, and Málaga have already been excluded from next season's UEFA tournaments. The Boquerónes are pointing at Atlético's financial situation to deem their exclusion unfair by comparison.
And who's complaining among the supporter base to avoid the debt from growing even further?
Well, more bad news down this road. If you take Señales de Humo out of the picture, no one. Three seasons ago, a group of high profile supporters led by Vicente Calderón's grandson founded Atléticos por el Cambio and according to their website…well, better not check their website because it's been shut down for months.
The association created a huge amount of hype to recover the club for the supporters and then disappeared into thin air. Sad, yet true.
Some other protest initiatives like the Manchester United-esque green and gold scarves were popular for a while, but serve  more as memorabilia than any practical purpose these days.
The club is of course riding the wave of success, and the owners aren't asking for anyone to climb aboard. The same lack of information about club finances prevail and there hasn't been an open-to-all share increase to allow abonados and socios to chip in and buy a chunk of Atlético in at least 20 years.
What are the supporters expected to do to participate in the club? A guess: keep paying for expensive, near-midnight match tickets and buy the designer-priced jerseys by the thousands, and doing so with a smile, if possible.
Atlético's official plan is to bet on a new stadium and training facilities to hugely boost income, which would shrink the debt until it vanishes. In the meantime, the club seem to be committed in their effort to turn the once-grand and magnificent Vicente Calderón into the shabbiest stadium in la Primera.
Can we trust the same people who brought us to this sinking point, people who inherited (let's be polite and say they inherited) a debt that threatens the very existence of a 109-year-old institution to guide us towards a better tomorrow?