Outrage has taken Atletico fans. Unlike in 2014 Rojiblanco fans will not be able to watch the Champions League Final in the Calderon due to pre-planned events in the stadium.
Instead the club has rented out the Palacio de los Deportes also known as the Barclaycard Centre. Real Madrid fans on the other hand will watch in the 80,000 capacity Bernabeu.
A huge cube will be placed in the centre of the basketball court for fans to watch the match live from Milan. In 2014 a similar event took place in our very own stadium to a sold out crowd and many hoped a similar event would be put on.
Sadly a concert by Beatle legend Paul McCartney has meant that the club has had to find an alternative venue to house the fans who cannot make their way to Milan.
The outrage from fans come from three points. Firstly the Barclaycard Centre has a capacity of only 14,000 seats compared to the 55,000 capacity that the Calderon boasts many fans will be unable to buy tickets to watch the match.
Images of a packed out Calderon will not be renewed and many fans will have to seek bars to watch the match. With tickets for socios (members) at a mere €5 and €15 for non socios the tickets are sure to be snapped up quickly.
Secondly, the Barclaycard Centre, despite being a modern arena which hosted the 2014 Basketball World Cup Final, is the home of none other than Real Madrid's basketball team. We will literally be watching the match in the home of the enemy!
Thirdly, there are rumours that tickets to the event that have blocked the possibility of watching the match in the Calderon had a clause in the terms of condition which stated that should Atletico Madrid reach the Champions League final the event would be moved elsewhere.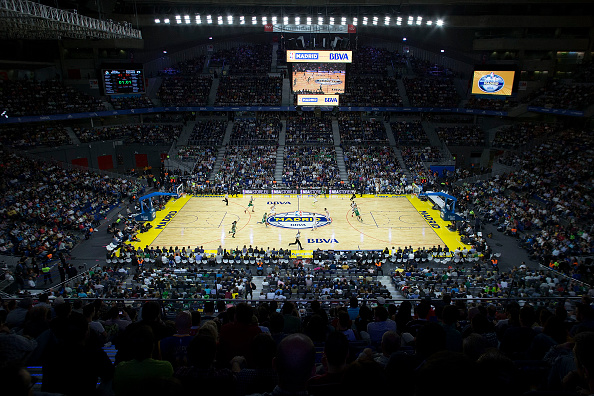 This has led to many complaining that the club did not stand up for itself sufficiently. After all, the event in 2014 was a glorious occasion with a sold out crowd in the Calderon celebrating our success that season together.
If you wish to buy tickets to the event and you are a socio of the club then you can do so on Monday the 23rd and Tuesday the 24th of May. It is a first-come-first-served basis so we recommend doing so quickly as it is likely to sell out at the mere €5 price tag.
If there are any seats left after those two days then another round of sales will occur for non-socios at a price tag of €15. You can purchase the tickets exclusively on the club website.
Doors open at 19:15 on the day of the match. Oh, and anything related to supporting Real Madrid will be confiscated on the doors. 😉
The only upside is that the Barclaycard Centre is a lot closer to Neptuno at least!