La Liga: Eibar 0 – 2 Atlético
Substitutes shine as red and whites grind out the win in Ipurúa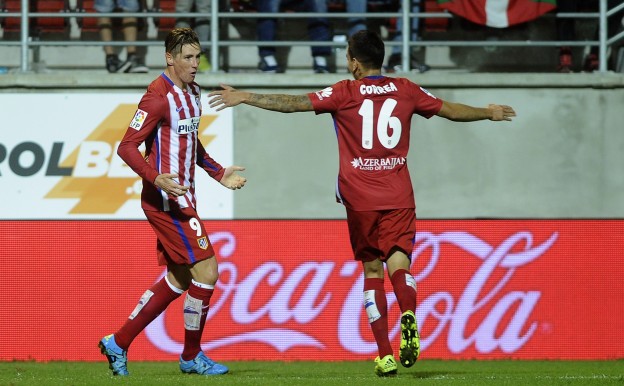 Atlético Madrid put last week's loss to Barcelona behind them on Saturday evening, as second half goals from Ángel Correa and Fernando Torres earned a 2-0 win against Eibar.
It took a while for the match to swing in the rojiblancos' favour, but Simeone worked his magic and masterminded the win with the help of his substitutions in the second half.
The match in Ipurúa started with Vietto-Jackson-Griezmann leading the front line, but it ended without the two South Americans who were both withdrawn at half-time as Atleti failed to break the deadlock.
The Colombian and Argentine shared a couple of shots on target, but neither bothered Eibar 'keeper Riesgo. For those questioning the two new signings just a month in the season, have some patience. The goals and cohesion will come soon, as seen with Griezmann last year.
The trident, which worked a charm in Istanbul, wasn't working in Ipurúa. Cholo decided to immediately make changes, which is not particularly common in particularly from him, usually conservative and confident in his players.
However, Vietto and Jackson weren't quite cutting it and had to come off. Cholo knew it, and so did the fans.
Thankfully the changes worked, Fernando Torres for Jackson, Óliver for Vietto and shortly after Correa for Koke. The team switched back to its typical and comfortable 4-4-2 and started to take control.
Seconds after coming on, Ángel Correa scored a stunner after a beautiful ball from Torres. His dummy fooled three Eibar defenders and he sent the ball to the back of the net with a shot that was too hot to handle for Riesgo.
Minutes later, Correa returned the favor. A lovely pass to Fernando Torres and a sweet strike from the Spaniard made it 2-0. It was eerily similar to the goal he scored in the Euro final against Germany in 2008.
El Niño is now Atleti's league 'pichichi' so far with two goals. One more and it'll be 100 not out for him in red and white, and looking at his current form you would bank on that coming soon.
But the game wasn't so straightforward, Eibar's excellent pressure kept Atleti a bit weary and always on the edge. Keko, the Atleti 'canterano', was Eibar's best player and he was causing trouble up and down the pitch.
Years ago, fans and pundits alike would mix up Koke and Keko. Obviously, Koke, unlike Keko, is now known worldwide, but today Keko was the more impressive of the two.
Koke was yet again disappointing and is struggling to record his first assist, having been replaced by Correa on the hour mark. His set pieces are also leaving a lot to be desired, but luckily Atleti are finding other ways to score.
The bench also provides a variety of options. Óliver and Correa did wonderful jobs once they came on the pitch and showed just why they are rated so highly.
It will be interesting to see which 11 players Cholo will put out on the midweek match against Getafe. Correa, Torres and Óliver all showed they deserve to start, but it could be a good chance for Jackson and Vietto as well.
Eibar

0

2

Atlético Madrid
Correa 62'
Torres 77'
| | |
| --- | --- |
| | La Liga |
| | Estadio Municipal de Ipurúa |
| | 19 September 2015 |
| | 20:30 CEST |
Team Lineups
Riesgo
Capa
Ramis
Santos
Luna
Escalante (82')
Dani García
Saúl Berjón (71')
Keko
Adrián (71')
Enrich
Substitutes used
Verdi '71
Borja '71
Arruabarrena '82
Oblak
Juanfran
Godín
Giménez
Filipe
Gabi
Tiago
Koke (61')
Griezmann
Vietto (46')
Jackson (46')
Substitutes used
Torres (46')
Óliver (46')
Correa (61')